Installation Manual¶
Installation summary¶
Architecture of system and content of installation deployment¶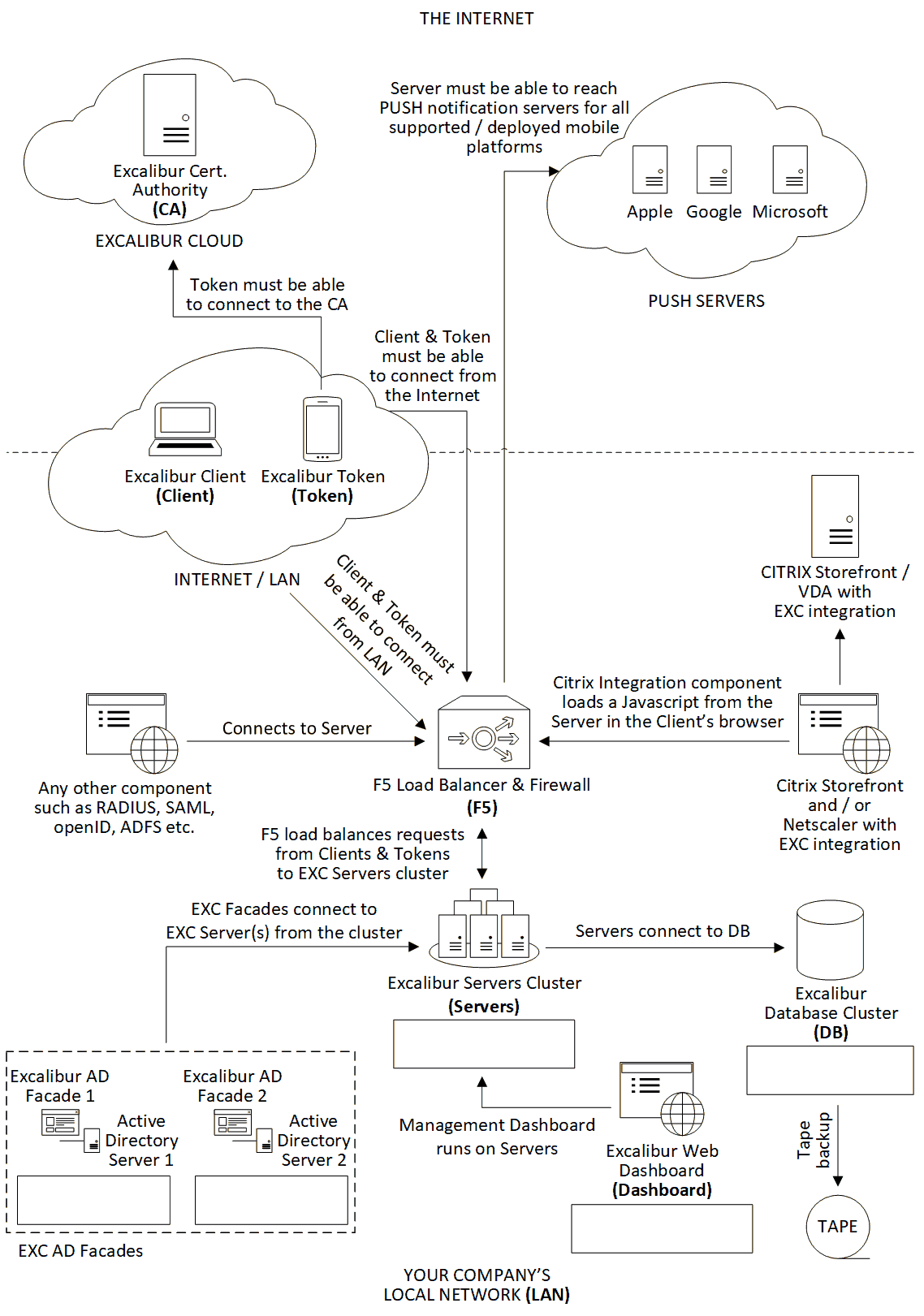 SERVER ( excalibur_server_\<version>.zip ) - provides a persistent network and storage central point as well as a web management interface - Dashboard.
DATABASE ( excalibur_install_\<version>.sql )
FACADE ( excalibur_activedirectory_facade_\<version>.msi ) - integrated component to Active Directory (AD) and runs as system service via Directory Replication Service (DRS).
CLIENT ( excalibur_client_\<version>.msi ) - any endpoint that requires a user to log in or authorize using their token.
TOKEN ( PlayStore: Excalibur, AppStore: Excalibur ) - Excalibur mobile application, which is mainly used for user interaction - factor verification, session display, etc.
Database installation¶
Requirements:

Database system: Oracle DB12.0.1+, MySQL, MariaDB
Character set: UTF-8
Allocated DB space: 1GB + up to 150 MB/annualy/user

Create 2 schemes (for instance EXCALIBUR and EXCALIBUR_APP).
Assign rights for schema no.1 (EXCALIBUR) that it can create tables, procedures.
Create tables according to the supplied schema, make insert default rows and assign rights for schema no.2 (EXCALIBUR_APP).
Assign rights for schema no.2  (EXCALIBUR_APP).
Set synonyms in schema no.2 (EXCALIBUR_APP) according delivered file.
Note
Customize the procedure when using different database users (eg installation and application).
Facade installation¶
Requirements:

OS: Microsoft Windows Server 2008 R2 alebo novší
gMSA, alebo ADDC
Installation under gMSA account:
Install gMSA to the computer, which is domain controller.
Install AD modul for Windows PowerShell.
Create a gMSA account on AD.
Assign the appropriate rights to the created account Excalibur AD Facade manual.
Configure created account to the target computer (AD).
Install delivered installation package to the AD domain controller.
Note
Installation via Active Directory Domain Controller (ADDC) is recommended, as this simplifies the installation and subsequent updates of the component.
Server installation¶
Requirements:

CPU cores: 8
RAM (min.): 8GB
Disc space (min.): 100GB
OS: Ubuntu 18.06, RHEL 7.x
System toolse: sudo, logrotate, cron, firewall, ntpd

Copy the installation package to the server an unpackage it.
Check configuration file (config.json).
Launch installation script (install.sh).
Post-configure installation (/opt/excalibur/config/excalibur.json) and change the https certificates for Dashboard*.
Note
Before starting the installation, it is critical to have a ready and active database environment!
Administrator registration - Dashboard¶
Load the Excalibur Dashboard on the browser.
Fill Active Directory username and administrator password to the shown registration form
Install the mobile app to the administrator's phone Excalibur User Manual.
Scan the schown registration QR from the Excalibur Dasboard screen and finish the registration
Note
The registered administrator is automatically the Excalibur system administrator with the highest rights in the Dashboard console.
Endpoint clients installation¶
Requirements:

OS: Windows 7 Service Pack 1 (SP1) and higher
RAM: min 1GB for 32bit version, 2GB for 64bit version
HDD: 20MB disc space + log files (depends on usage & debug level)
Internet Explorer 9 and higher
Manual installation:¶
Run the supplied msi client installation package and follow the instructions of the installation program.
After successful installation, the client is ready for subsequent login (Lock/Logout of the computer is needed).
Automated installation:¶
There is also a fully autonomous installer that can be deployed using automated tools.
Further materials¶
Excalibur Administrattor Dashboard Manual
Excalibur Client Installation Manua